Unleash

the

power

of

custom

websites

and

graphic

designs

made

specifically

for

Churches!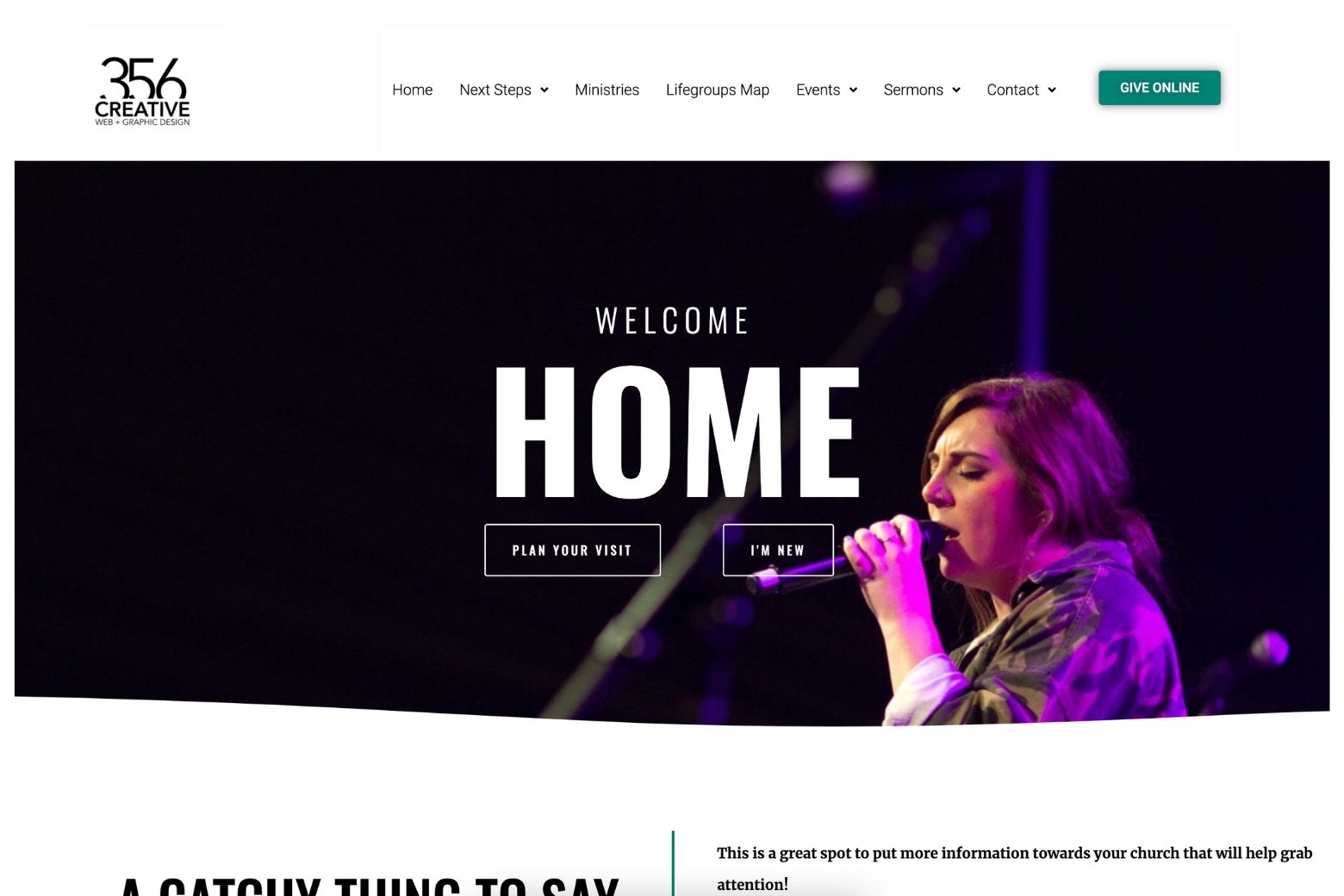 100%

made

with

churches

in

mind!
Unique and Modern Designs
Get

rid

of

a

'meh

church

websites

and

graphics

today!
We know that you need church website with modern features that will help your church to stand out as well as connect with your community, but you also need jaw-dropping visuals for your events, sermon series, announcement slides, merch and clothing designs, and more if you want to be recognized as a creative leader, which is something we at 356 Creative are well aware of. 
Here's the problem: You don't have time to create and update your website as well as create those visuals yourself, even if you have the knowledge to do so given that you have millions other things you need to accomplish. And what if you lack the necessary abilities? You likely feel overburdened and perhaps a little powerless.
You deserve to reclaim a few hours each week so you can put an end to your frustration, concentrate on what counts, and look fantastic. We at 356 Creative are former church employees, therefore we well understand the particular difficulties you encounter every week.   Because of this, we have worked with church websites and graphics for churches of all  shapes, sizes, and styles. Let us look after yours as well!
Custom Modules for our websites
Powerful

tools

to

help

you

keep

your

website

up

to

date!
All of our websites have custom made modules to help make it easier to manage! So you can use your time on what matters, your church family!
Lifegroups Map and Ministry
Easily add all the information needed for your lifegroups or ministries!
Sermon Manager
We have 2 custom built sermon managers! Take a look at the demos to learn more!
Events
Schedule and share all of your upcoming events to your entire church family and community easily.
Check

out

2

of

our

church

website

demos

today!
We have built and customized websites that are built with churches in mind. Whether it may be our custom sermon manager, events manager, lifegroups maps/manager or even our ministry manager, we have made it accessible to you! We also have a live front end editor to make it easy to edit your site!
Church Plant Discounts Available
Affordable

website

prices

for

churches

of

all

sizes!
Whether you are a small church plant or a multi-site church, we have your back! Send us a message today to learn more!
No need to worry about hosting, domains, routing or anything else, we are here to take that off of your plate!
Modern websites that connect with your community!
WEBSITES
$
120
CAD /month
For Churches of all sizes
Support and Client Portal
Llifegroups and Ministry Manager
SERMON

GRAPHICS,

LOOPS

&

GRAPHIC

DESIGNS
If you are looking for some support in your graphic design and communications team, we can help!
We have a Monthly Graphic Design Package that includes 1-3 loops per month, up to 25 social media posts as well as up to 3 custom sermon graphics all at a rate that churches will appreciate!
Monthly Graphics Package: $80/MTH
$110/MTH REGULAR PRICED.    * Prices are in CAD
Unlimited Monthly Graphic
Message us to learn more!
We

can

also

build

you

a

stunning

mobile

app

that

will

work

great

with

your

website!
We provide apps that will help you reach your clientele in new ways! Our website apps will be downloadable from both the Google Play Store and the Apple App Store.